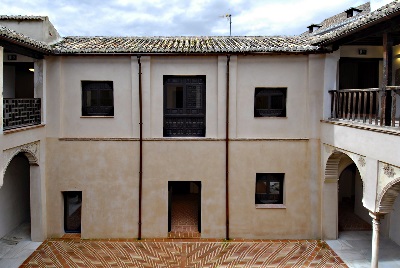 ENGLISH | ESPAÑOL | DEUTSCH | 한국어| 日本語
ENGLISH: Built in the late fourteenth century as a moorish palace, the site was donated by the Catholic Kings to his secretary Hernando de Zafra, after the expulsion of the Muslims. When Zafra died, the palace became part of the foundation of the convent of Santa Catalina de Zafra and kept it until 1946, year in which happened to public ownership. From the building you can observe beautiful views of the Alhambra and admire a few murals, original paintings of the time.
Open daily from 10 am. Concepción de Zafra, 4.
ESPAÑOL: 
Siendo un palacio nazarí construido a finales del siglo XIV, el recinto fue cedido por los reyes Católicos a su secretario Hernando de Zafra, después de la expulsión de los musulmanes. Cuando Zafra murió, el palacio pasó a formar parte de la fundación del convento de Santa Catalina de Zafra y lo conservó hasta el año de 1946, año en el que pasó a la titularidad pública. Desde el edificio se pueden observar preciosas vistas de la Alhambra, así como admirar algunas pinturas murales, originales de la época.
Abierto todos los días desde las 10 am.
Calle Concepción de Zafra, 4.
DEUTSCH: Erbaut im späten vierzehnten Jahrhundert als ein maurischer Palast wurde das Gelände nach der Vertreibung der Muslime von den katholischen Königen an deren Sekretär Hernando de Zafra gespendet. Nachdem Zafras Tod der Palast wurde ein Teil der Stiftung für den Konvent von Santa Catalina de Zafra die es bis 1946 bewahrte, bis es zu öffentlichem Eigentum wurde. Vom Gebäude hat man einen wunderschönen Blick auf die Alhambra und die wenigen Wandbilder, Originalgemälde aus der Zeit, bewundern. Täglich ab 10:00 Uhr geöffnet. Calle Concepción de Zafra, 4.
한국어:   
日本語:サフラの家
14世紀末にムーア人の宮殿として建設され、ムスリム追放の後にはカトリック王からその秘書であったエルナンド・サフラに貸し与えられました。サフラの死後はサンタカタリナデサフラ修道院の一部となり、1946年まで保存されました。同年に公的所有物となりました。屋内からアルハンブラの華麗な景色が見渡され、まるでかつてのムーア人の時代の壁画を眺めているかのように感じさせられます。
毎日午前10時より開館しています。
Calle Concepción de Zafra, 4.