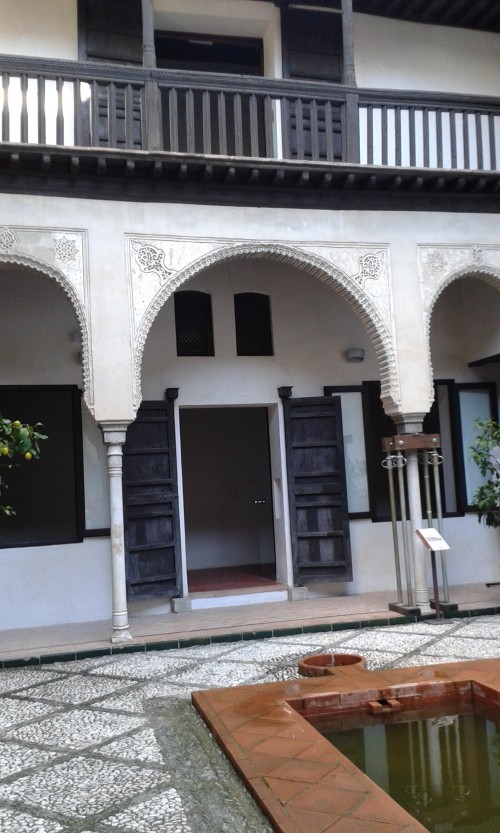 ENGLISH | ESPAÑOL | DEUTSCH | 한국어| 日本語
ENGLISH: Built in the late fifteenth century, changes in the sixteenth century became an interesting example of Moorish architecture that integrates Islamic elements and Castilian, noting especially the splendid polychrome wooden armor that covers one of the rooms on the second floor.
Open daily from 10 am. Horno de Oro, 14.
ESPAÑOL: Construida a finales del siglo XV, las transformaciones del siglo XVI la convirtieron en un interesante ejemplo de casa morisca que integra elementos islámicos y castellanos, destacando sobre todo la espléndida armadura de madera policromada que cubre uno de los salones del segundo piso.
Abierto todos los días desde las 10 am.
Calle Horno de Oro, 14.
DEUTSCH: Erbaut im späten fünfzehnten Jahrhundert, sind die Änderungen des sechzehnten Jahrhundert ein interessantes Beispiel der maurischen Architektur die islamische und kastilische Elemente integriert. Besonders hervorzuheben sind die großartigen mehrfarbigen Holzverkleidungen, die die Wände eines Raumes im zweiten Stock verkleiden. Täglich ab 10:00 Uhr geöffnet. Horno de Oro, 14.
한국어:   15세기 후반에 세워졌으며, 이슬람적 요소와 카스티야요소가 혼합된  무어 양식 건축물의 훌륭한 예로,
2층의 방 한 곳은 찬란한 색색의 나무 갑옷으로 장식 되어 있다.
매일 오전 10시 개장, Horno de Oro, 14 위치.
日本語:カサ・オルノ・デ・オロ
15世紀の末に建設され、16世紀に加えられた改修によりイスラム文化とカトリック文化が融合した興味深いムーア建築となっています。特に上階の部屋を覆うカラフルな木製の装飾が目をひきます。
毎日午前10時より開館しています。
Calle Horno de Oro, 14.