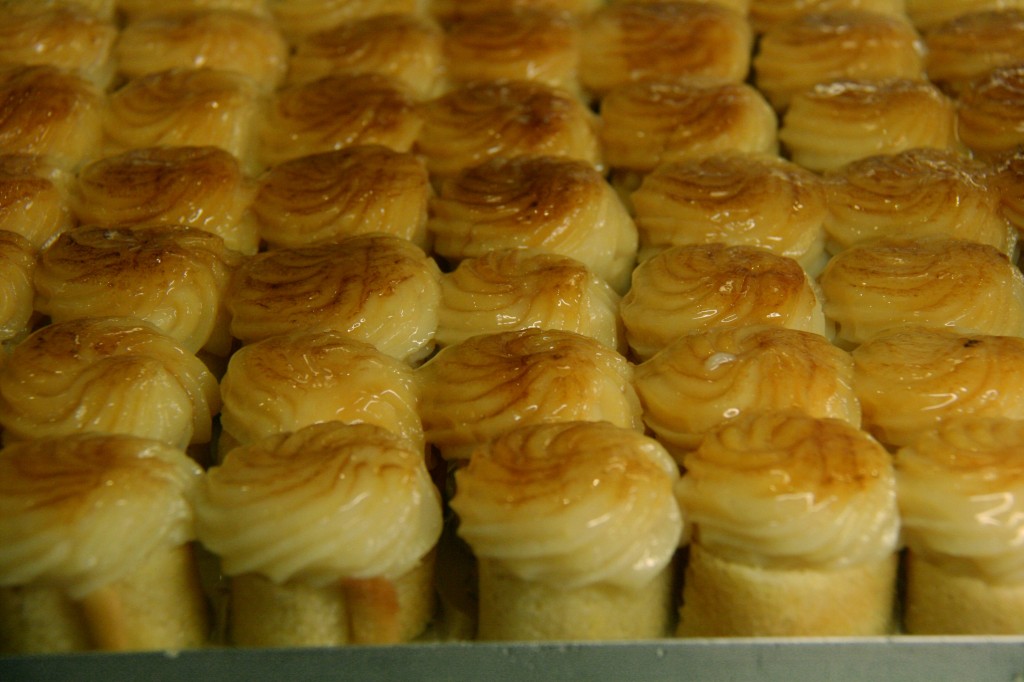 ENGLISH | ESPAÑOL | DEUTSCH | 한국어| 日本語
ENGLISH:
Piononos Sweets – The pionono is a type of cream sponge cake soaked in syrup. It has a toasted crown that hopes to represent the silhouette of the cylindrical head of Pope Pio the ninth (the name of the Pope at the time), a monumental figure of his time. Ceferino Isla, very devoted to the Virgin de la Angustias, created this exquisite dessert in 1897 because he wanted to make homage to the Pope that spoke proclaimed the dogma of the Immaculate??? conception of Maria, that was not other than Pio IX or Nono. If you want to try these exquisite typical desserts, resort to some patisserie or bakery of the city, and sweeten your day.
ESPAÑOL:
El dulce típico de Granada – El pionono es un bizcocho humedecido en jarabe, con crema y una coronilla tostada que pretende representar la silueta de la cabeza cilíndrica del papa Pío Noveno (de ahí el nombre de pionono), figura muy destacada en la época. Ceferino Isla, muy devoto de la Virgen de las Angustias, fue el que creó en 1897 este exquisito dulce porque quería rendir un homenaje al Papa que había proclamado el dogma de la Inmaculada Concepción de María, que no era otro que Pío IX o Pío Nono. Si quieres probar estos exquisitos dulces típicos, acude a cualquier pastelería o panadería de la ciudad, y endúlzate el día!
DEUTSCH:
한국어:
日本語:
グラナダ名物のお菓子
ピオノノという名前のシロップ漬けスポンジケーキがグラナダではよく食べられています。上のほうがトーストされており、この形がかつてのローマ教皇ピウス9世(ラテン語でピオノノ)の頭の形に似ていることからその名前がついたそうです。聖母マリアに心酔していたセフェリーノ・イスラという人物が1897年にこの洗練されたお菓子をピウス9世に敬意を表して作りました。どこのお菓子屋さんやパン屋さんにもあるはずなので、ぜひピオノノを食べて甘い1日をお過ごしください。