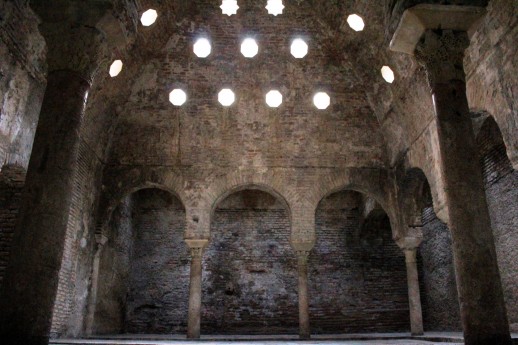 ENGLISH | ESPAÑOL | DEUTSCH | 한국어| 日本語
ENGLISH:
Built in the eleventh century, this is one of the oldest and best preserved public Arab baths in Spain, and one of the 21 bathrooms that existed in the city. It served the people of the neighborhood red Sabika hill, low Albaicin, who came to wash, shave, massage, besides serving as a meeting place. It remained open after the Spanish conquest until King Philip II in the sixteenth century, decided to close it, due to consider it as a sinful place. In 1918 it was declared National Monument.
Open daily from 10 am. Carrera del Darro, 31.
ESPAÑOL: Construido en el siglo XI, este es uno de los baños árabes públicos, más antiguos y mejor conservados de España, y uno de los 21 baños que existieron en la ciudad. Daba servicio a los habitantes del barrio de Axares, el Albaicín bajo, quienes acudían a lavarse, cortarse el cabello, depilarse, recibir masajes, además de servir de lugar de reunión. Permaneció abierto tras la conquista castellana hasta que el rey Felipe II en el siglo XVI, decidió su cierre al considerarlo un lugar pecaminoso.
En 1918 fue declarado Monumento Nacional.
Abierto todos los días desde las 10 am. Carrera del Darro, 31.
DEUTSCH: Erbaut im elften Jahrhundert, ist dieses eins der ältesten und am besterhaltensten öffentlichen arabischen Bäder in Spanien und eins von 21 Bädern in dieser Stadt. Es diente den Bewohnern der Stadtteile Axares und unteres Albaicin zum Waschen, Rasieren und zur Massage, und außerdem ein Treffpunkt. Es blieb nach der Eroberung Spaniens geöffnet, bis König Philip II im sechszehnten Jahrhundert entschied es zu schließen zu lassen, da es als ein sündenvoller Platz galt. 1918 wurde es zu einem Nationaldenkmal erklärt. Täglich ab 10:00 Uhr geöffnet. Carrera del Darro, 31.
한국어: 11세기에 지어진 가장 오래된 아랍식 목욕탕으로 사비카 언덕에 살던 사람들이 목욕, 면도, 마사지, 때로는 사람을 만나기 위해 가던 곳이다. 16세기에는 불경한 곳이라며 출입이 금지되었지만 1918년 국립기념지가 되었다. 매일오전 10시 개장하며 Carrera del Darro, 31에 위치해있다.
11세기에 지어진 가장 오래된 아랍식 목욕탕으로 사비카 언덕에 살던 사람들이 목욕, 면도, 마사지, 때로는 사람을 만나기 위해 가던 곳이다. 16세기에는 불경한 곳이라며 출입이 금지되었지만 1918년 국립기념지가 되었다. 매일오전 10시 개장하며 Carrera del Darro, 31에 위치해있다.
日本語:バニュエロ
11世紀に建築された、スペインで最古のアラビア式公衆浴場のひとつです。グラナダには全部で21のアラビア式公衆浴場が保存されています。かつてサビカの丘やアルバイシンの住人たちが入浴やひげそり、マッサージをしていたほか、談笑のための憩いの場としても利用されました。カトリックによる再征服後も利用されていましたが、16世紀にフェリペ2世が罪深い場所であるとして閉鎖してしまいました。
1918年に国定史跡に認定されました。
毎日午前10時より開園しています。
住所: Carrera del Darro, 31