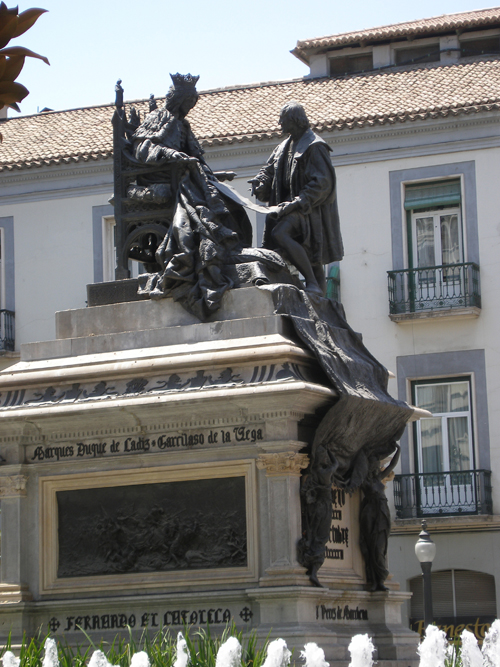 ENGLISH | ESPAÑOL | DEUTSCH | 한국어| 日本語
ENGLISH: Christopher Columbus – At the end of the 15th century when Christopher Columbus was filled with inspiration and courage to sail the seas to India, he visited Sante Fe. It was here that he performed, in order to raise travel funds, a famous display of his quest with the aid of an egg. It was the Catholic Queen who then sponsored his voyage to India. This monument pays respect to this historical encounter.
ESPAÑOL: Cristóbal Colón – A finales del S. XV, cuando Cristóbal Colón se llenó de inspiración y coraje para surcar los mares a la India, visitó Santa Fe. Fue aquí que él realizó, con el fin de recaudar fondos para el viaje, una famosa presentación de su búsqueda con la ayuda de un huevo. Fue la Reina Católica que luego patrocinó su viaje a la India, y este monumento rinde respeto a este encuentro histórico.
DEUTSCH:
한국어:
Christopher Columbus
15세기 후반 콜럼버스가 인도를 향한 모험심으로 충만하던 때, 그는 모험자금 투자자를 모으기 위해 그라나다 교외의 산타페에 들른 적이 있다. 유명한 '콜럼버스의 달걀'일화가 여기에서 탄생한 것이다. 결국
이사벨 여왕의 후원으로 인도로의 출항이 가능하게 되었고, 이 기념물은 그것을 기념하기 위한 것이다.
日本語:
クリストバル・コロン
15世紀の終わりにかの有名なコロンブスがインドに向けて渡航の意を固めたころ、彼はグラナダ郊外のサンタフェを訪れました。コロンブスが卵を潰して立てたあの逸話は、まさにこの場所でのことです。彼は渡航のための資金集めをしていました。そして、インドへの渡航を支援したのはカトリック女王イサベルでした。この歴史的な出会いを記念して銅像が建てられています。