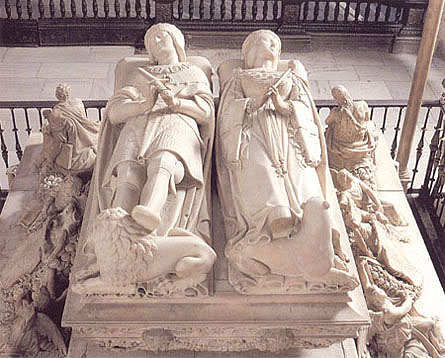 ENGLISH | ESPAÑOL | DEUTSCH | 한국어| 日本語
ENGLISH: Royal Chapel – The Royal Chapel is located near the Cathedral of Granada. It was drawn by Enrique Egas in 1504, to locate the tombs of the Catholic kings. The Sacristy contains a splendid collection of Flemish and Italian tables, among which the famous triptych of the Passion by Dierick Bouts, belonged to the queen Isabella and which, for its size and qualities, is the most important paintings of Granada.
Open daily at 11 am. Oficios st.
ESPAÑOL:
Capilla Real – La Capilla Real se encuentra junto a la Catedral de Granada, y es de estilo gótico isabelino. Fue trazada por Enrique Egas en 1504, para ubicar en su interior las sepulturas reales. La Sacristía, contiene una espléndida colección de tablas flamencas e italianas, entre las que destacan el famoso tríptico de la Pasión, obra de Dierick Bouts, que perteneció a la Reina Isabel la Católica y que, por sus dimensiones y cualidades, es la obra pictórica más importante de Granada.
Abierto todos los días desde las 11 am. Calle Oficios s/n.
DEUTSCH:
Königliche Kapelle – Die königliche Kappele befindet sich neben der Kathedrale von Granada. Sie wurde 1504 von Enrique Egas entworfen, um die Gräber der katholischen Könige dort unterzubringen. Die Sakristei umfasst eine prächtige Sammlung an flemischen und italienischen Tafel unter ihnen auch das berühmte Triptychon der Leidenschaft von Dierick Bouts, welches Königin Isabella gehörte und, in Hinsicht auf Größe und Qualiäten, das wichtigste Gemälde in Granada ist. Täglich ab 11:00 Uhr geöffnet.
Kloster von Sacromonte – Es befindet sich auf dem Berg Valparaiso und von hier aus kann man einen wunderschönen Blick auf die Alhambra und das Albaicin genießen, man kann es über den Camino del Sacromonte erreichen, bergauf zu Fuß oder per Bus C2. Neben des Klosters kann man auch die heiligen Höhlen besuchen, die unterhalb der Kirche und des Museums liegen, dieses umfasst zahlreiche Kunstwerke und Gegenstände der Verehrung. Geöffnet Dienstag bis Sonntag ab 10:00 Uhr. Camino del Sacromonte.
한국어:
Royal Chapel
그라나다 대성당 근처에 위치해 있으며 엔리케 데 에가스가 1504년 가톨릭 왕가의 무덤으로 쓰기 위해 설계하였다. 예배당 안에는 이사벨 여왕과 페르난도 공의 묘가 안치되어 있으며 성물실에 보관된 여왕의 수집품이 볼 만하다.
그라나다에서 가장 중요한 그림이라고 할 수 있는 십자가에 못박힌 예수, 십자가에서의 강림, 부활을 소재로 한 3폭 제단화를 볼 수 있다.
매일 오전11시 개장, Oficios st 위치.
日本語:王室礼拝堂
カテドラルの近くにある、エリザベス朝期のゴシック様式のチャペルです。1504年にエンリケ・エガスによって王家の棺を安置するために築かれました。聖具室にはフランドルやイタリアのテーブルが置かれています。また、フランドル派の画家であるディルク・ボウツによってイサベル女王にささげられた、キリスト受難の絵画がその大きさと精巧さからグラナダで最重要とされています。
毎日午前11時より開帳されます。
Calle Oficios s/n.