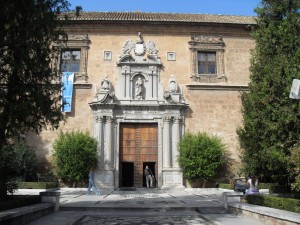 ENGLISH | ESPAÑOL | DEUTSCH | 한국어| 日本語
ENGLISH: Hospital Real – Now the home to the headquarters of the University of Granada, this former hospital is one of the most impressive buildings in town. Occasionally the host to events and concerts, as well has having an exhibition hall covering topics of historical and cultural importance.Well worth the visit if you are in the area.
ESPAÑOL:
Hospital Real – Ahora el hogar de la sede de la Universidad de Granada, este antiguo hospital es uno de los edificios más impresionantes de la ciudad. En ocasiones aquí se celebran eventos y conciertos, y además dispone de una sala de exposiciones sobre temas de importancia histórica y cultural. Vale mucho la pena visitarlo si estás en la zona.
DEUTSCH:
한국어:
Hospital Real
현재에는 그라나다 대학 본부가 들어서 있는 인상적인 건물로, 이벤트나 콘서트가 열리는 한 편, 역사자료나 문화자료의 전시가 열리기도 하므로 들러볼 가치가 있다.
日本語:
王立病院
現在はグラナダ大学の本部が置かれている、街の中でも印象的な建物です。ときどきイベントやコンサートが開かれるほか、歴史資料や文化資料の展示会も開かれます。来る価値ありです。